›
›
›
Golden Harvest Gravel
Golden Harvest Gravel
Golden Harvest Gravel
£47.50 per 850kg bulk bag
Including delivery and VAT
Product details
Quarried at our New Barn Farm quarry in South Oxfordshire, Golden Harvest Gravel blends shades of gold, bronze and cream.
This highly durable hard flint, and is ideal for areas with high footfall, such as driveways and car parks, as well as landscaping areas.
It is available in 10mm and 20mm grades.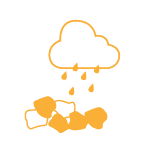 Hard-wearing stone
Golden Harvest Gravel provides a harder and more durable alternative to other shingles
Attractive vibrant colours
With its stunning mix of yellows, neutral creams and earthy browns, Golden Harvest Gravel makes a vibrant addition to any landscape or garden
Ideal for paths and driveways
Golden Harvest Gravel is durable and ideal for use in high traffic areas such as paths, driveways and car parks
Browse other products